Step 1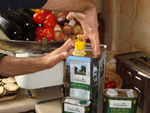 Pull out first the ring which seals the tin.
The seal guarantee the integrity of the tin.
Once the ring is fully stretched, keep pulling so to extend the neck of the cap.
Step 2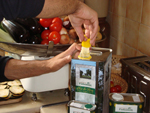 Unscrew the cap by turning it left (Anticlockwise).
This will allow the air to enter the tin.
Step 3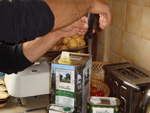 Using a pointed tool (like a Phillips screwdriver or a knife, make a hole on the tin in the opposite corner of the plastic cap.
Make sure that the pointed tool is clean before making the hole and sterilise it on a flame for few second.
The hole made to the tin will allow the air getting into the tin so to avoid bubbling.
Step 4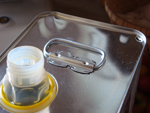 Use either the hole made to the tin or the extended cap to pour the extra virgin olive oil into your cruet.
A small funnel could be also used to easily transfer the olive oil.
Once the cruet has been refilled screw back the cap and a bit of plastic tape could be placed on the hole to seal it back till the next refill.
Step 5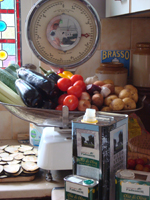 The same tips can be used for the 0.5 and 1 litre tin and directly pour it on the salads, bread, fish and meat and in soups.